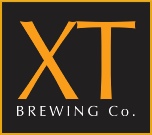 XT Brewing Co. Notley Farm, Long Crendon, Bucks , HP18 9ER
01844 208 310
Late at night the little creatures sneak into the brewery and make special beers …. They make them once and get bored.. Then move onto a new idea …
These are one off limited edition beers.
Animal & MoogBrew - Bastard Bunny Brew Ha Ha 7.2% IPA
A true American style double IPA thumping in at a hefty 7.2% – very generously hopped with truckloads of American greenery – Chinook, Cascade, Columbus and Summit on pale malts.
The Bunny is a collaboration brew with MoogBrew – a trendy little brewery in Taplow, Buckinghamshire. It was a chance meeting with MoogBrew at a beer festival. They said they had made a beer called Bastard Bunny… we immediately suggested a joint-brew under our Animal brand. Only Bigger. With Lots More Hops. The Bastard Bunny character is originally featured in the NME magazine - the guys from Moog are mates with Dave Anderson who created the character. (Click the XT Blog Icon above for more info)
Available
Animal Brewing Co - Elk 4.6% Vienna Amber Ale
Brewed using only Vienna and Rye malts with Czech Saaz and German Mittlefruh Hops. This is based on a classic German Vienna beer recipe but with a little bit of an Animal style twist.
Available
Animal Brewing Co - Toucan 4.6% Amber
New Zealand Wakatu and Pacific Gem hops meet on a raft of amber malts resulting in a wonderfully drinkable ale.
Available
Animal Brewing Co - Buzz 4.6% Spring Pale Ale
A spring ale - fruity fresh English hops with clean pale Marris Otter malts.
Sold Out