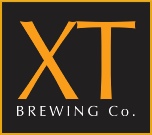 XT Brewing Co. Notley Farm, Long Crendon, Bucks , HP18 9ER
01844 208 310
Late at night the little creatures sneak into the brewery and make special beers …. They make them once and get bored.. Then move onto a new idea …
These are one off limited edition beers.
Animal & MoogBrew - Bastard Bunny Brew Ha Ha 7.2% IPA
A true American style double IPA thumping in at a hefty 7.2% – very generously hopped with truckloads of American greenery – Chinook, Cascade, Columbus and Summit on pale malts.
The Bunny is a collaboration brew with MoogBrew – a trendy little brewery in Taplow, Buckinghamshire. It was a chance meeting with MoogBrew at a beer festival. They said they had made a beer called Bastard Bunny… we immediately suggested a joint-brew under our Animal brand. Only Bigger. With Lots More Hops. The Bastard Bunny character is originally featured in the NME magazine - the guys from Moog are mates with Dave Anderson who created the character. (Click the XT Blog Icon above for more info)
Available in Keg and Bottle only
Animal Brewing Co - Panther 3.2% Black 'Table' IPA
A deep black IPA full of dark malts matched with the punch of Summit and Admiral Hops, earthy spices and orange flavours on liquorice roastyness - all fitting in at just 3.2% .
Animal Brewing Co - Platypus 4.6% New World Pale
A blonde pale ale packed with New World Hops,
lemon and lime with hints of tropical fruits
Animal Brewing Co - Squirrel 4.6% Belgo-American
A Belgian-American Style Amber Ale - brewed with American Chinook and Columbus hops giving citrus, pine and grapefruit flavours - blended with a Belgian Malt base adding raisin and plum notes.