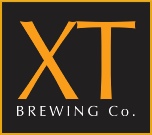 XT Brewing Co. Notley Farm, Long Crendon, Bucks , HP18 9ER
01844 208 310
XT - TWO - 4.2% ABV Golden
A refreshing golden ale made with English Pale and Munich Malts, combined with Bohemian and American hops to give a real international flavour.
XT - FOUR - 3.8% ABV Mellow Amber
An amber beer with a special Belgian malt and a fruity mix of American and European hops. Very addictive, and our flagship beer.
Winner of the Best in Festival' at: Aylesbury Beer Festival in October 2011, the Royal British Legion Winter Festival, Hornton Festival and Littleworth Festival 2012.
AVAILABLE YEAR ROUND
XT - EIGHT - 4.5% ABV Dark Roast
A smooth rich dark beer brewed with a careful blend of four malts along with a cocktail of hops to give a complex taste. Deep malty base with dark roasty chocolate flavours, very balanced beer.
Generally Available
Oak Casks
We also have some beers available in wooden casks. These are oak firkins made for us by the last master cooper in England. These are on a very limited supply.
Trade Tuesdays
We are open on a Tuesday morning for our trade customers to come and view the brewery and sample the beers
Beer Sales
Beers can be purchased by private or trade customers direct or through SIBA-DDS. We deliver to to pubs within a 20 mile radius of the brewery.
We brew a core range of beers seasonal specials and ciders
Currently Available in Cask for Feb 2016
XT Brewing : ONE, TWO, THREE, FOUR, EIGHT, 15
ANIMAL Brewing : Big Foot
CRAFT-KEG: Three, Four,
XT - NINE - 5.5% ABV Black Ale
Nine Malts - this is a very special beer made for the drinker who wants something different. This is NOT a stout, it's something else entirely. Big malt aroma on a bitter, balanced hop finish.
XT - THREE - 4.2% ABV Indian Pale
An IPA style beer made with lots of Celeia, Columbus and Cluster Hops, on Vienna malts.
XT - ONE - 4.2% ABV Blonde
Citrus and fruity hops flirt with reserved English barley and some very naughty Bohemian malts to make a characterful blonde ale that you'll want to meet again.
XT - FIVE - 5.5% ABV American Amber
Big American sized portions of hops on a deep filled malty base.
XT - SIX - 4.5% ABV Rich Ruby
Beautiful ruby red beer, malty and smooth with a cascade hop finish.
Autumn Winter Ale
XT - SEVEN - 4.5% ABV Belgian Tawny
Wait and see…
AVAILABILITY TBD