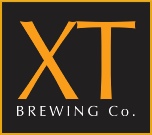 XT Brewing Co. Notley Farm, Long Crendon, Bucks , HP18 9ER
01844 208 310
XT - THIRTEEN version X - 4.5% ABV Pacific Red Ale
A red ale brewed with a cocktail of hops selected from nations around the pacific – Columbus from NW America, Galaxy from Australia, and Wakatau from New Zealand. Originally Brewed in 2013
HOPS= Galaxy, Columbus, Wakatau
MALTS=Pale, Red, CaraMalt, Wheat, Crystal
XT - '25' XMAS Ale - 4.7%
A festive rosey red ale, with English Golding and New Zealand Wakatau hops for a top to bottom winter warmer. Uses a very slow cold fermentation technique in the German Altbier tradition.
Christmas Ale
XT - Pi - 3.141% ABV Roast Black Mild
A transcendental Mild, with an irrational, never ending depth of roasty flavours. Works out perfectly.
Spring Time Mild
XT - Fresh Hop ONE - 4.2% ABV Blonde
A special hop harvest beer - hops picked straight from the bine and rushed back to the brewery. A Green Hop Beer brewed as fresh as we can possibly make it!
Available after the harvest in September
XT - Saison 14 - 4.5% ABV Hazy Pale
A Golden Pale Ale - brewed with a semi wild Belgian Saison Yeast. A zesty fruity refreshing ale with a natural haze.
Summer Seasonal
XT - Lest We Forget - 4.2% ABV Red Ale
Brewed for the Royal British Legion and the Poppy Appeal. A Red Ale with English Admiral Hops. A donation from every cask sold will be presented to the Poppy Appeal.
October and November
XT - XPA 5.9% American IPA
An IPA brewed with crisp, clean extra pale malts and more hop additions than any of our other beers. Plus a cooler, slower fermentation for a really special hop forward flavour.
XT - FIFTEEN - 4.5% ABV English IPA
Brewed to celebrate the new varieties of English Hops. This is an English IPA triple hopped, pale amber ale with caramel malt notes, lasting floral, hop character.
XT - TEN 4.5% Black Stout
a full bodied black, heart-warming stout, brewed with rich roasted malts and fresh English grown hops.
Winter Seasonal
XT - Experimental 4.2% Pale Ale
the English hop growers are developing new hop varieties and XT has been selected to work on this project by brewing experimental beers using these new hops. The varieties are still in development, are only available to the partner brewers and only have code names. The first of the new variety beers uses CF125 – if this sells well, then the variety will be moved to large scale production growing and given a more catchy name.
XT - SEVENTEEN - 4.5% ABV Single Hop Series
A series of single hop beers - showcasing a wide variety of hop varieties.
XT - XPA 7.2% Black IPA
Rammed with hops for a full flavour Cascadian Dark Ale - all the hop impact of the XPA but with a dark and mysterious twist.
XT - SIXTEEN - 6% ABV Belgian IPA
Quadruple hopped with some of Europe's finest greenery. Belgian speciality malts and a European Union of hops all presided over by a Brussels Abbey Ale Yeast; brewed on the site of an Augustinian Abbey.
XT - Six Six Six - 6.66% ABV Black Magic
The number of the yeast beast, 666 is South Seas Black Magic potion. A dark and moody beer heavily hopped with Green Bullet, Wakatu, and Dr Rudi hops from New Zealand. They say the Devil finds wort for idle hands.