We are proud sponsors of
&
The full XT range of beers covers all sorts of styles and flavours. We also make special experimental beers under the 'Animal Brewing' name The current beers can be seen on The Beers page.
We want everyone to enjoy good quality British beers so we designed our beer branding to be as friendly and easy to understand as possible. The labels and pumpclips simply show the style, taste and colour of the beer and that's it; no fuss, no confusing blurb, only what you want to know to choose the right beer.
We are members of the Alliance of Oxford Brewers and The Society of Independent Brewers SIBA
Welcome to the XT Brewery
XT Brewing Company produces a wide range of eXTremely tasty craft beers from our brewery at Notley Farm in the village of Long Crendon, on the Oxfordshire, Buckinghamshire border near Thame. The brewery was created by Russ and Gareth in 2011 using a custom, all British built 18bbrl brewhouse. We brew all our own real ales for cask and bottles using very traditional methods but on the most up to date equipment.


Next up - the Brand New XT-Fifteen: English IPA will be out on the pumps very soon.
OOH! a BUNNY .. how cute .. not this one .... coming soon a collaboration with Moogbrew ... a Double IPA that wont be fluffy!
Four Members social evenings per year -
All inclusive beer for you and 2 guests
Discounts in the shop
Exclusive club goodies
All for just £55 per year
Sign up at the brewery by phone or email us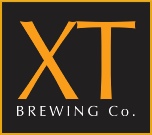 XT Brewing Co. Notley Farm, Long Crendon, Bucks , HP18 9ER
01844 208 310